One of the things I have really enjoyed since starting designing etches is the ability to look through a book of old photographs of railways, to discover a particular prototype and decide "I'd like a model of that." - and not have to hope and wait for Hornby or some other manufacturer to bring the model out (which, of course with the esoteric things I like to have, they never will).
I am experienced at designing kits for locomotives, coaches, inside and outside framed goods vans, bridge girders, structures, ...  and doing so in such a way that they are as easy to assemble as possible.   Where complex shapes are called for I have the mathematical skills to anaylse them and design them exactly correctly - no cutting and trimming cardboard parts until they fit.
If you feel there is a project you have been wanting to do and would like etches designed then please contact me.
Here are some of the more unusual or specific models for which I have designed kits.
The girder bridge Long Melford
This was designed for a 2mm scale model of Long Melford.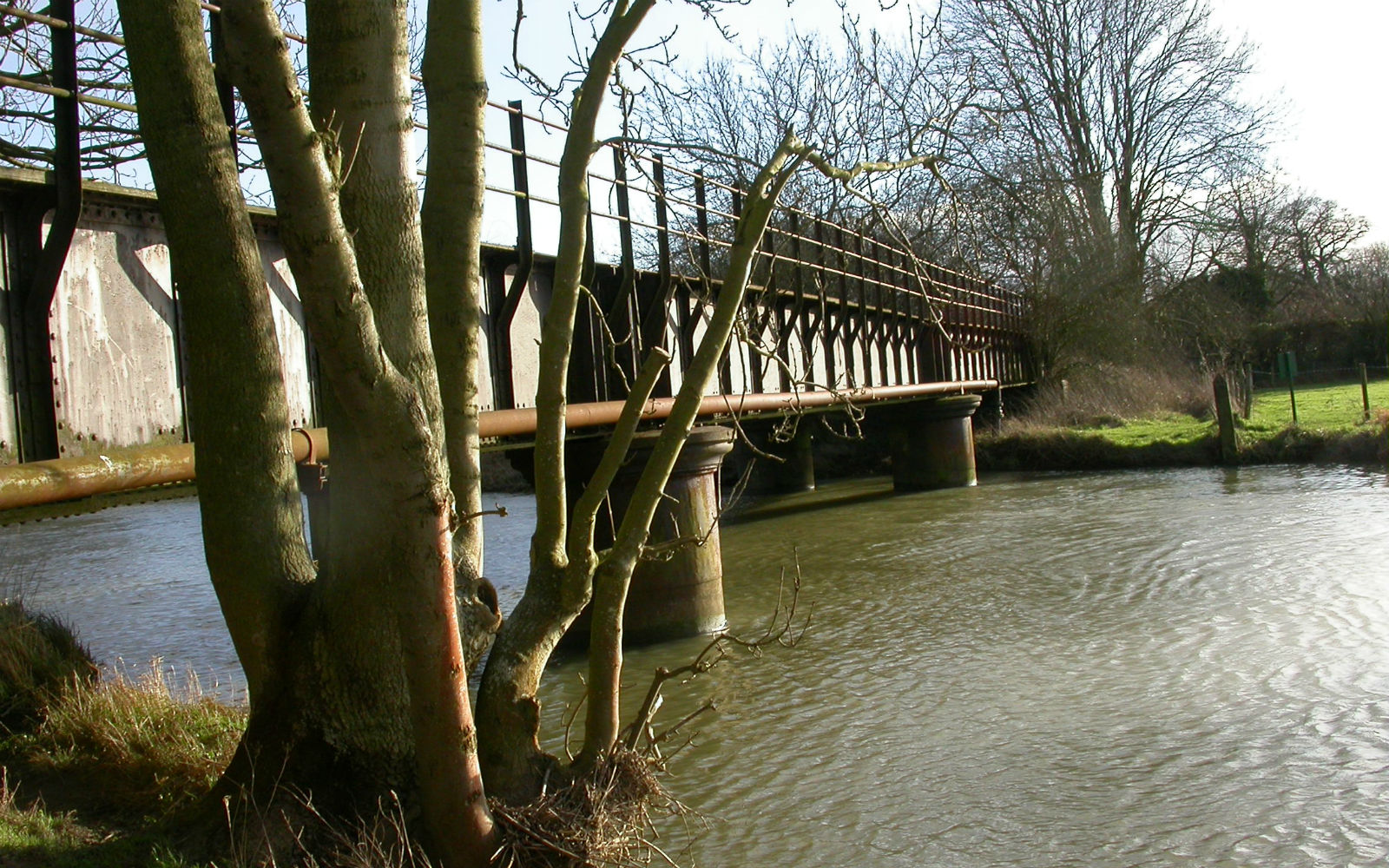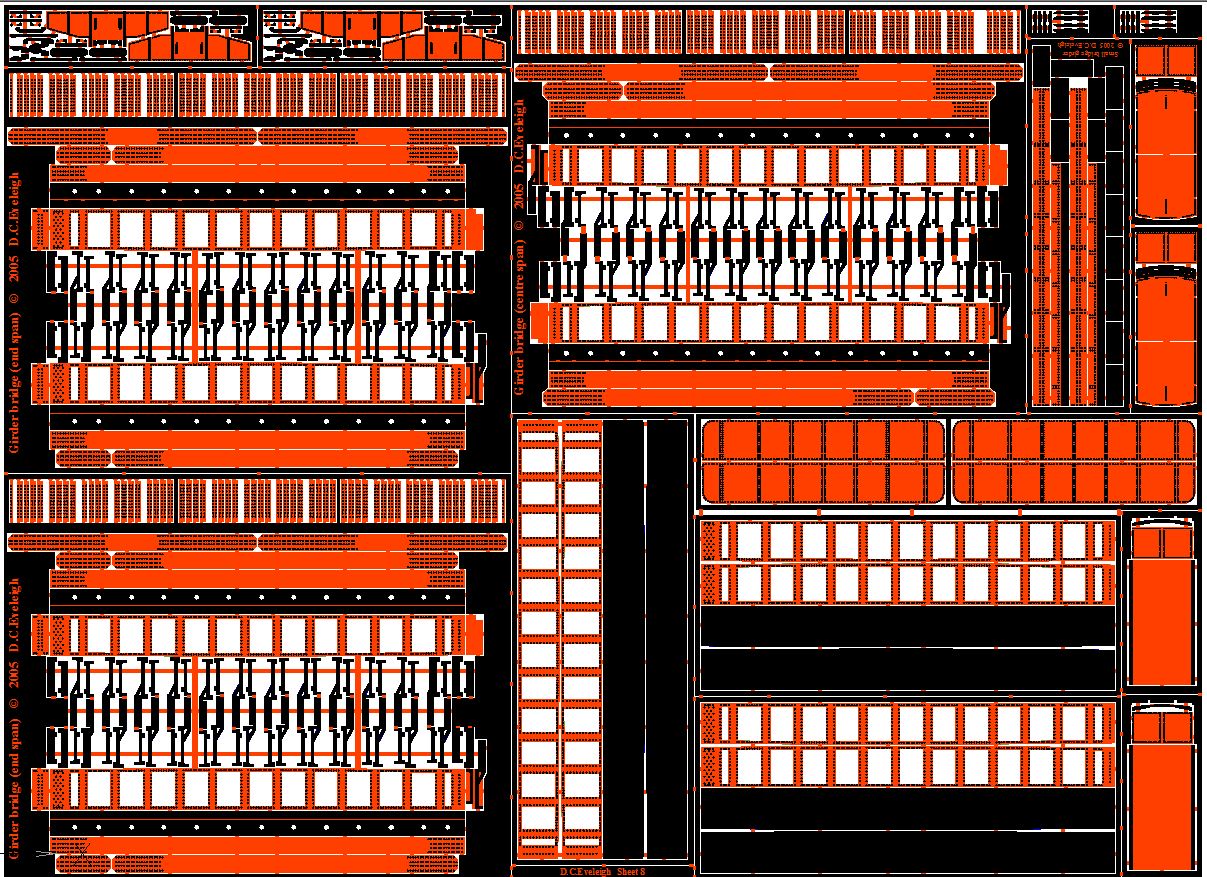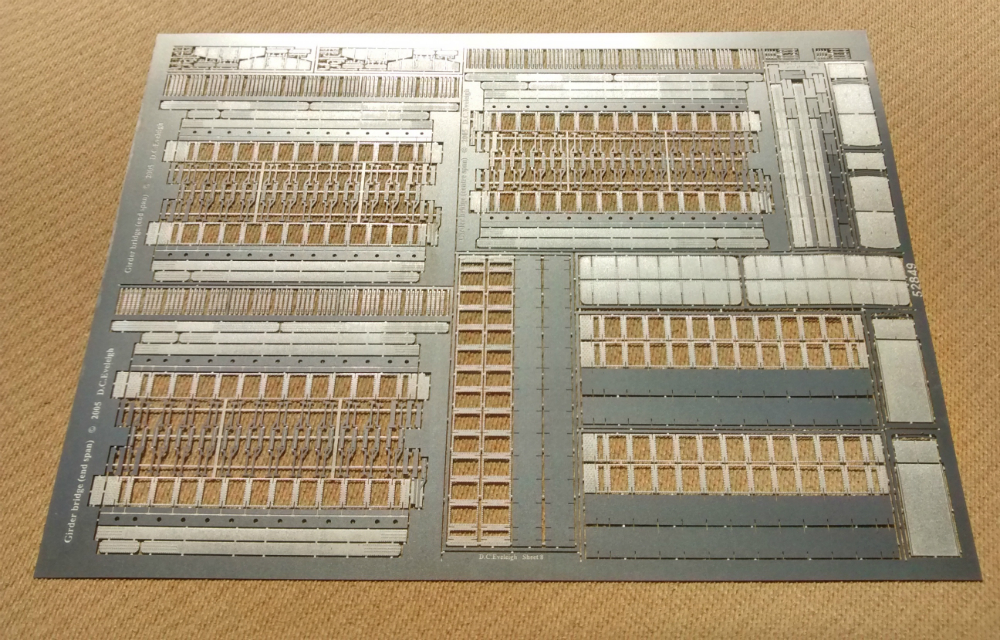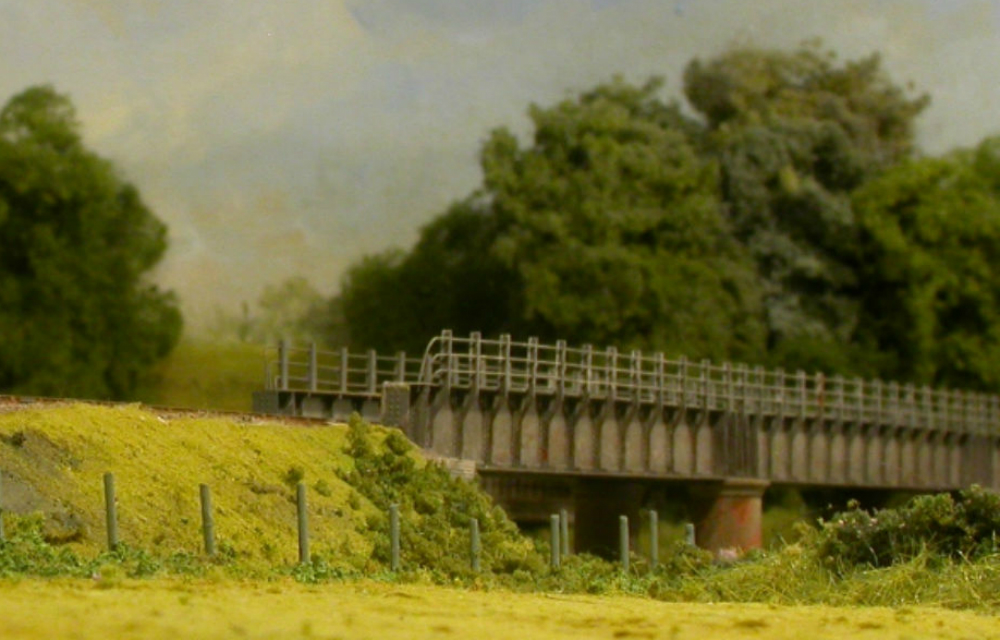 Great Eastern first class coach body
Preserved at the Mid Suffolk Railway Museum at Brockford, Suffolk.   The other side is more damaged, as portrayed in my etch.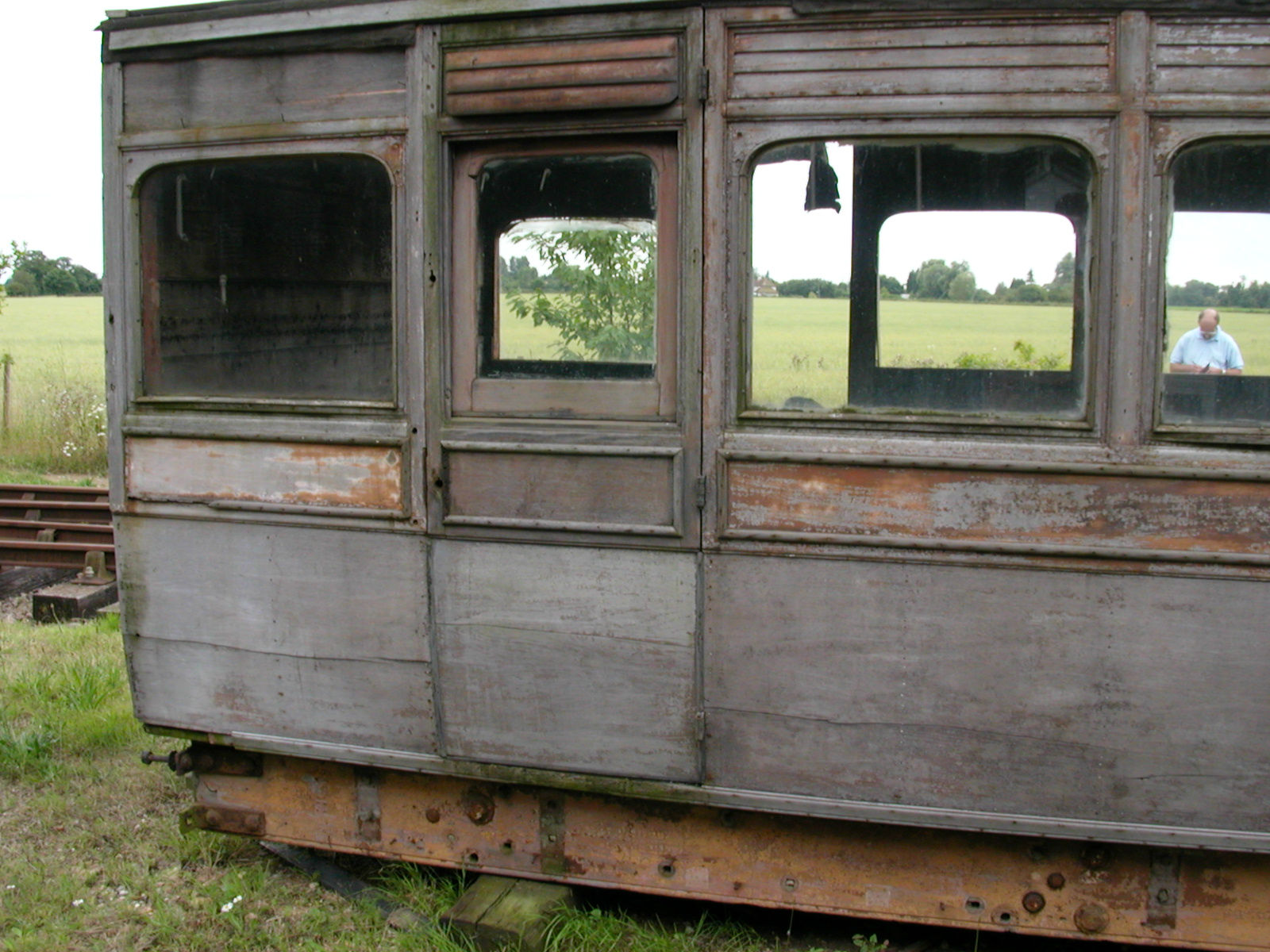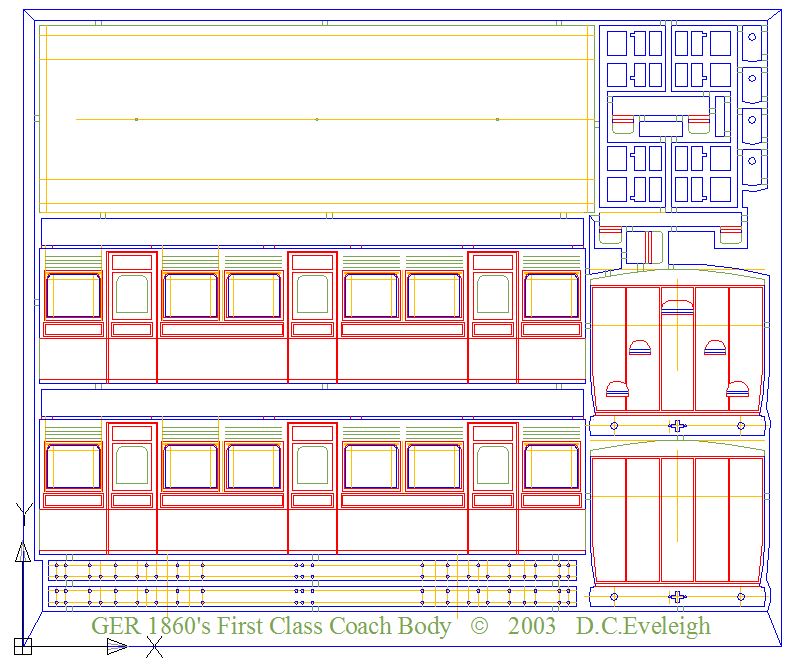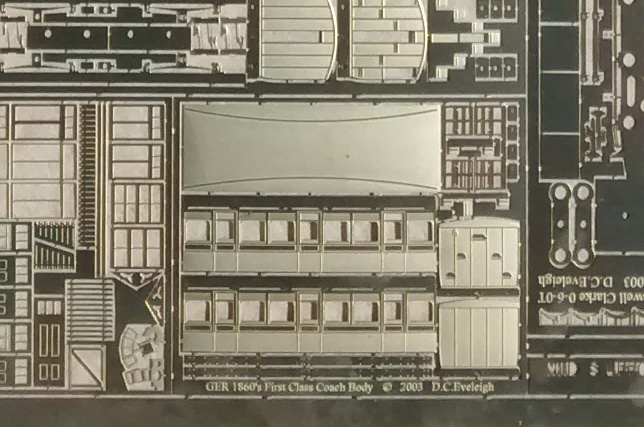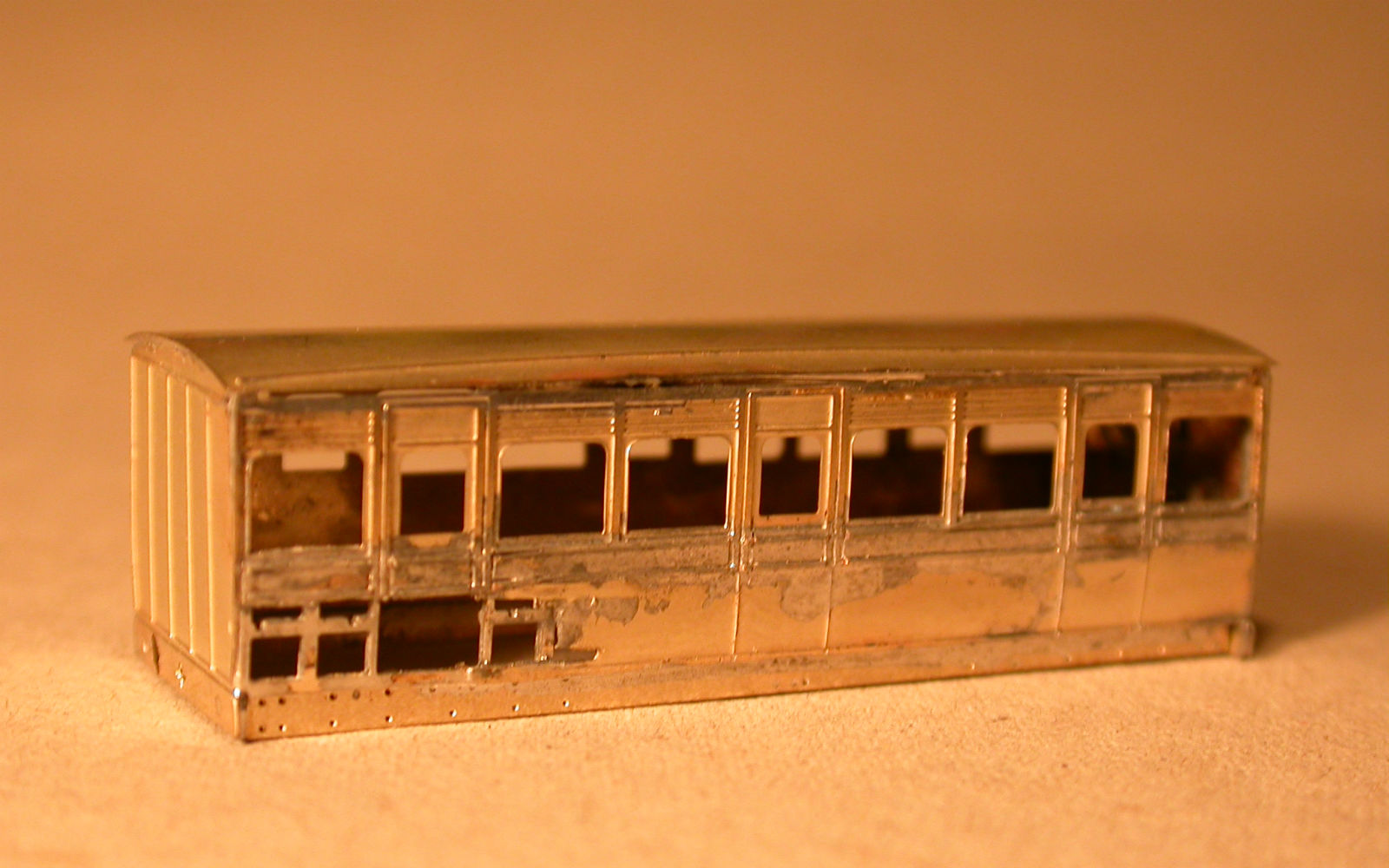 Great Northern 12 wheeled coaches
These were for the famous Copenhagen Fields layout of the Model Railway Club.

After I had decided to make a model of a Kings Cross to Cromer express on my favoured Midland and Great Northern Joint Railway, (results seen below), Tim Watson, the leader of the famous 2mm layout, "Copenhagen Fields", team observed "Do you know - these are the only kits available for these vehicles in any scale."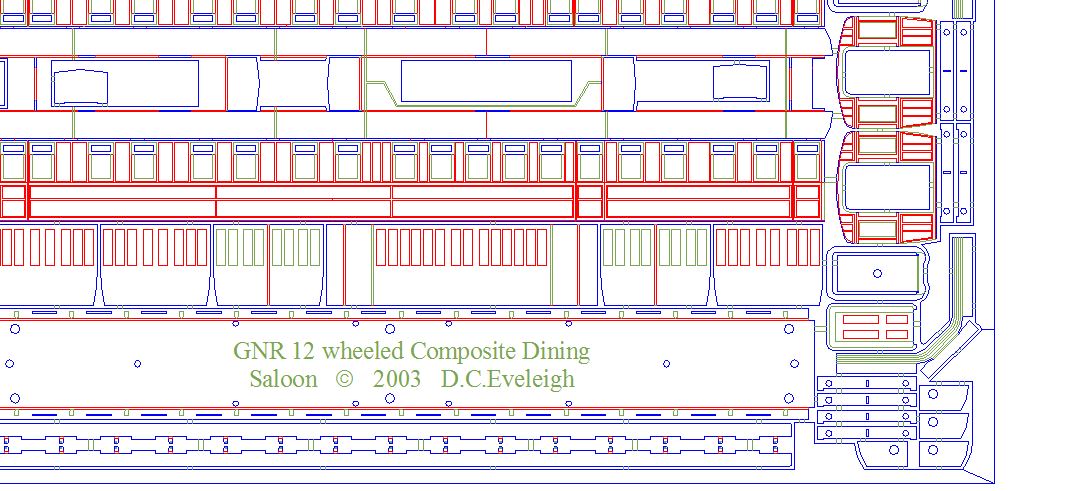 Information can be a problem and poor scale drawings from the older model railway magazines can sometimes make things worse.   I have a lot of experience now in interpreting drawings; using my knowledge gained from my training as an engineer to assess what things might actually be like in terms of the job they have to do and working backwards though the mathematical laws of perspective on variable quality photographs to arrive at a well proportioned scale model.  Roughton Road Junction Signal box shown below is a good example of that.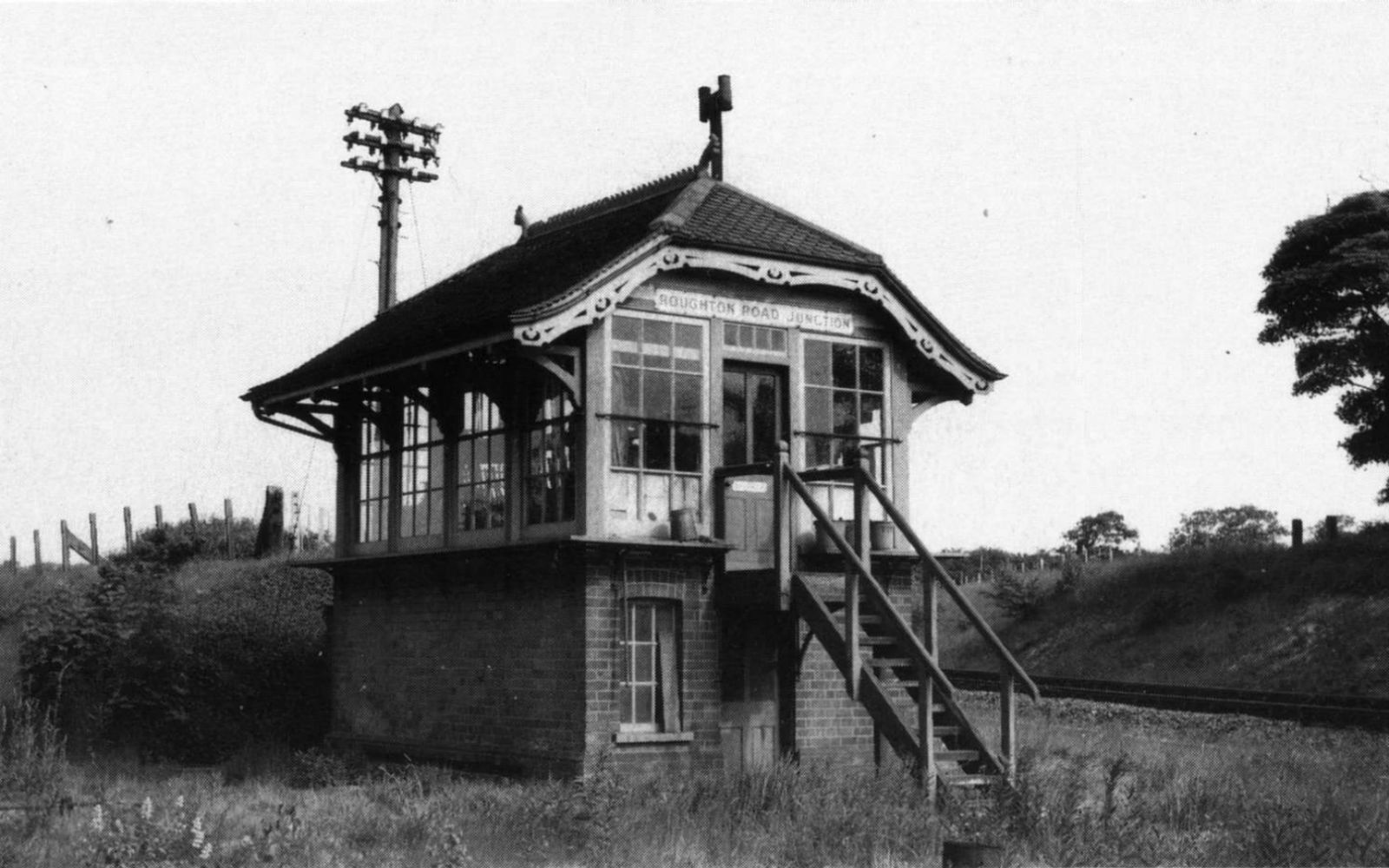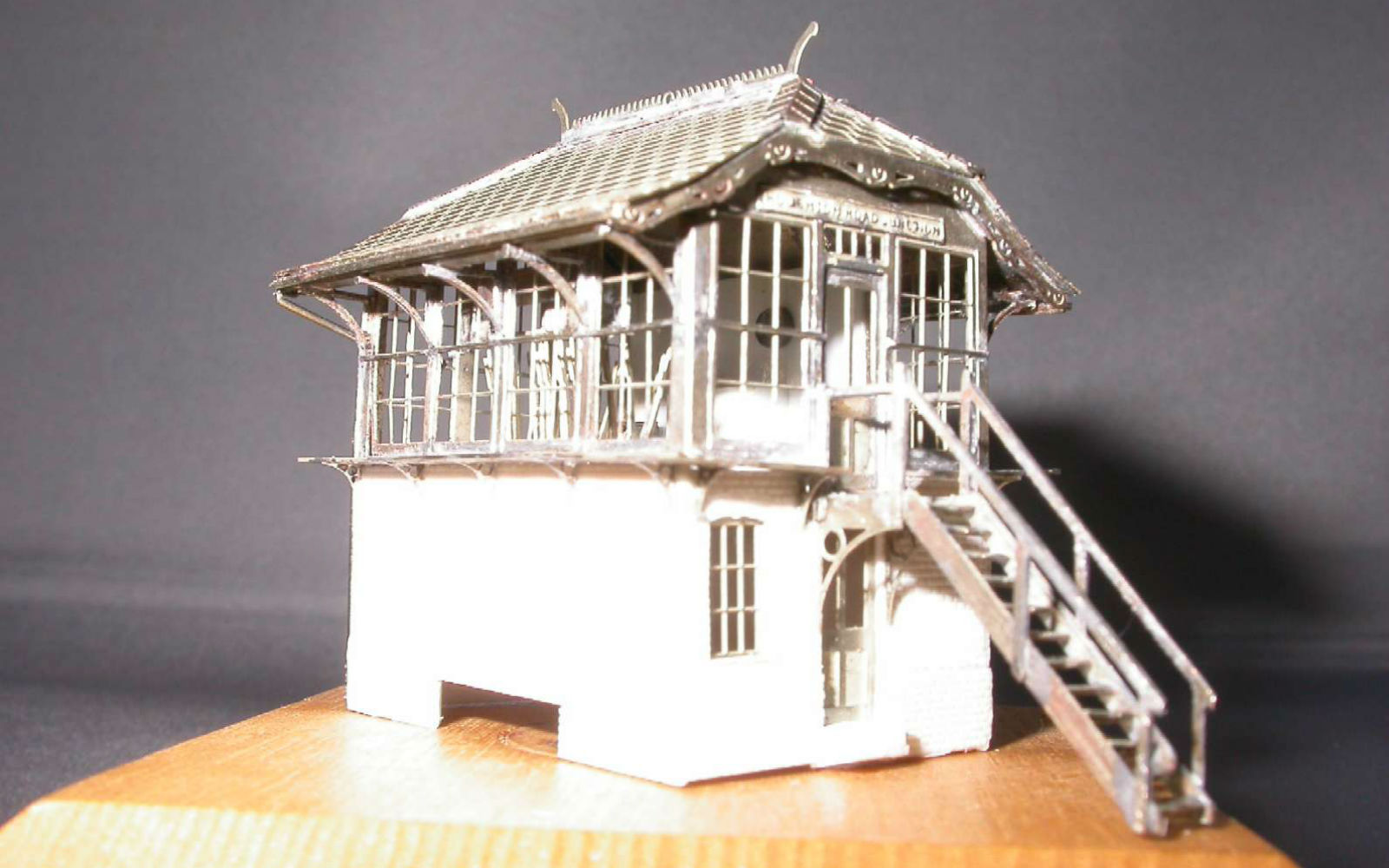 Below are images of each of the A3 sheets I have designed since 2002.   As you can see there is quite a lot of work!
Sheet 1  Great Eastern compartment coaches, Wisbech tram coaches, horsebox, cattle box, fruit vans (two designs), bridge girders, level crossing gates (two types), yard gates, station seats, outside 'W' irons for Scottish wagons, GWR wagon brake parts.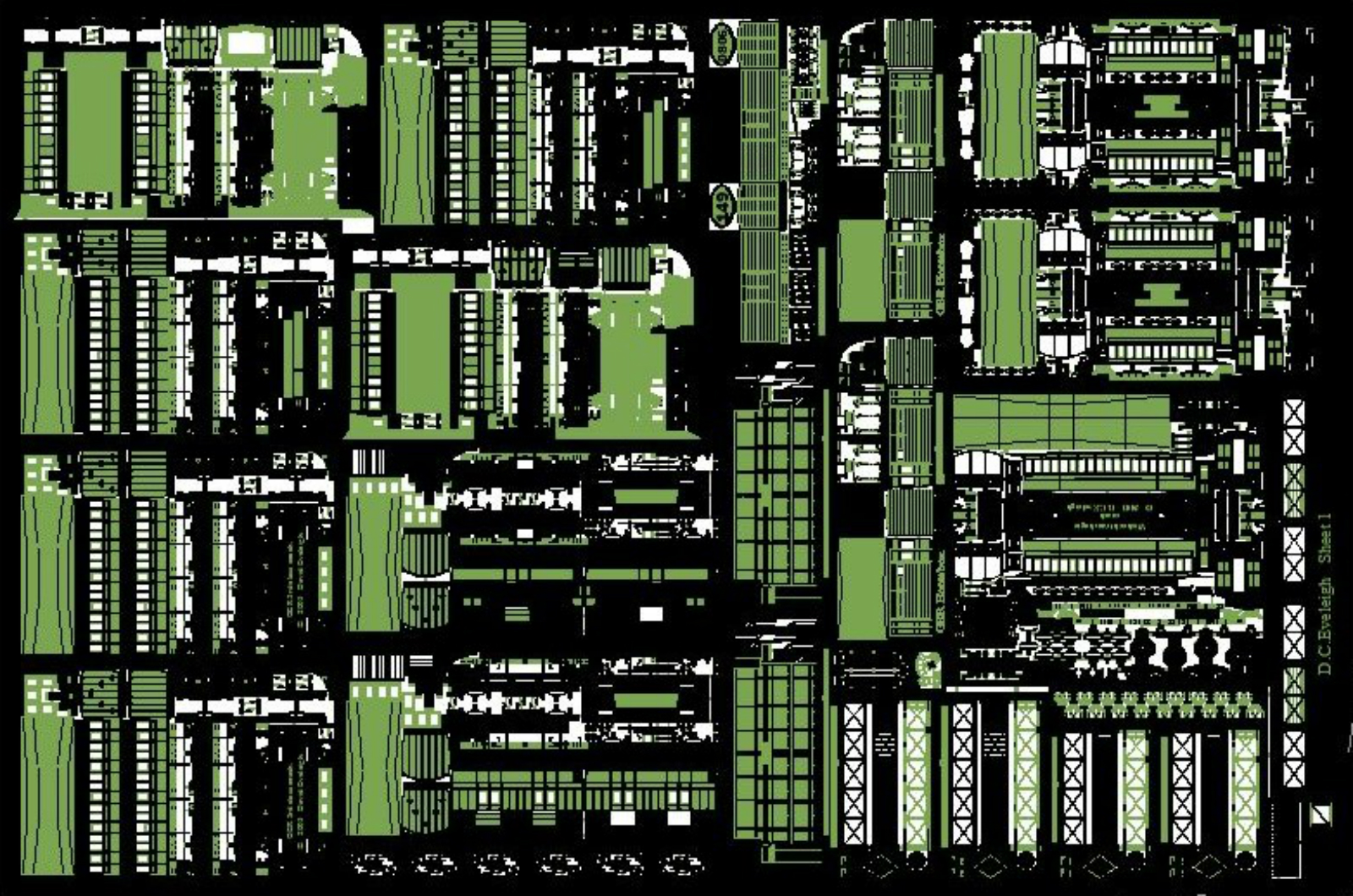 Sheet 2   Mid Suffolk Light Railway: 0-6-0T locomotive, coaches, brake vans, level crossing gates, building parts (doors, windows, valances), parts for two horse drawn wagons, [replacement sides for fruit vans (Sheet 1)]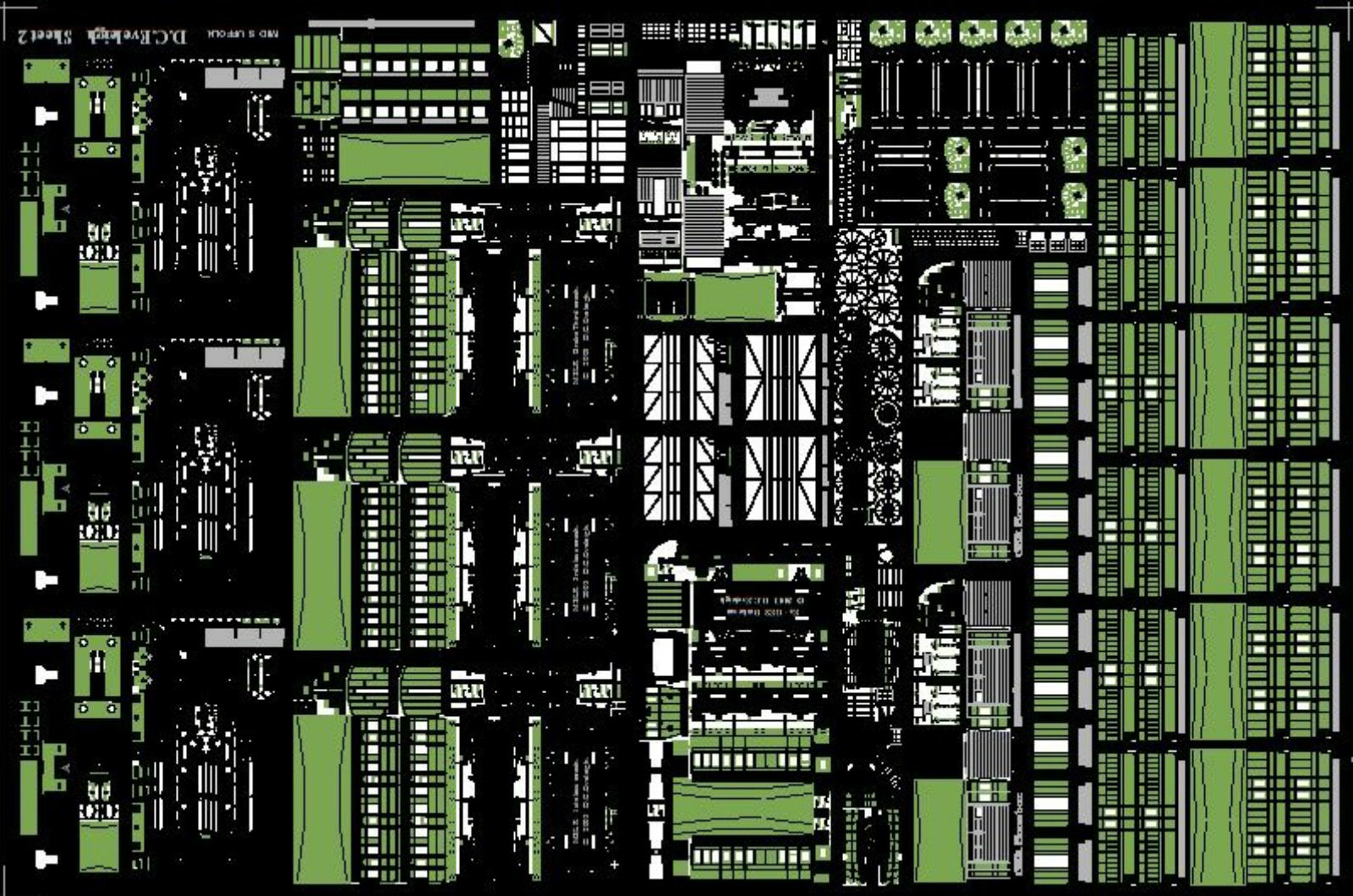 Sheet 3 M&GNJR  three locomotives (+ tender), two signal boxes, open carriage truck, officers' saloon, gunpowder wagon, horse box, cattle truck, parts for two hand cranes, ornamental bridge, brick presses for making embossed brickwork (English and Flemish bonds, two weights), platform shelter parts (windows and valance), quoins and arches for Norfolk cottages, diamond fencing, level crossing gates.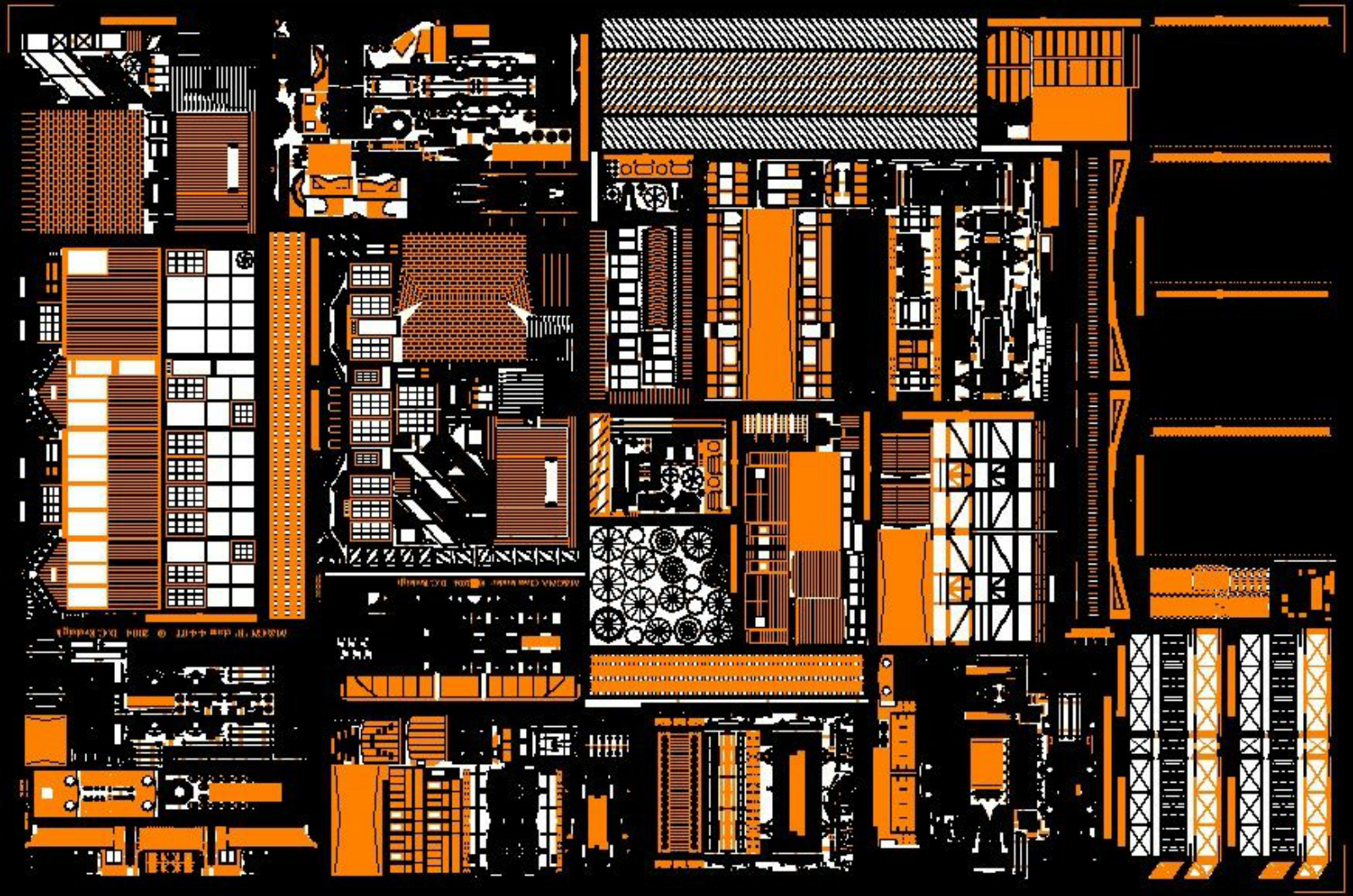 Sheet 4  Great Northern / East Coast Joint Stock coaches complete with four or six wheeled bogies.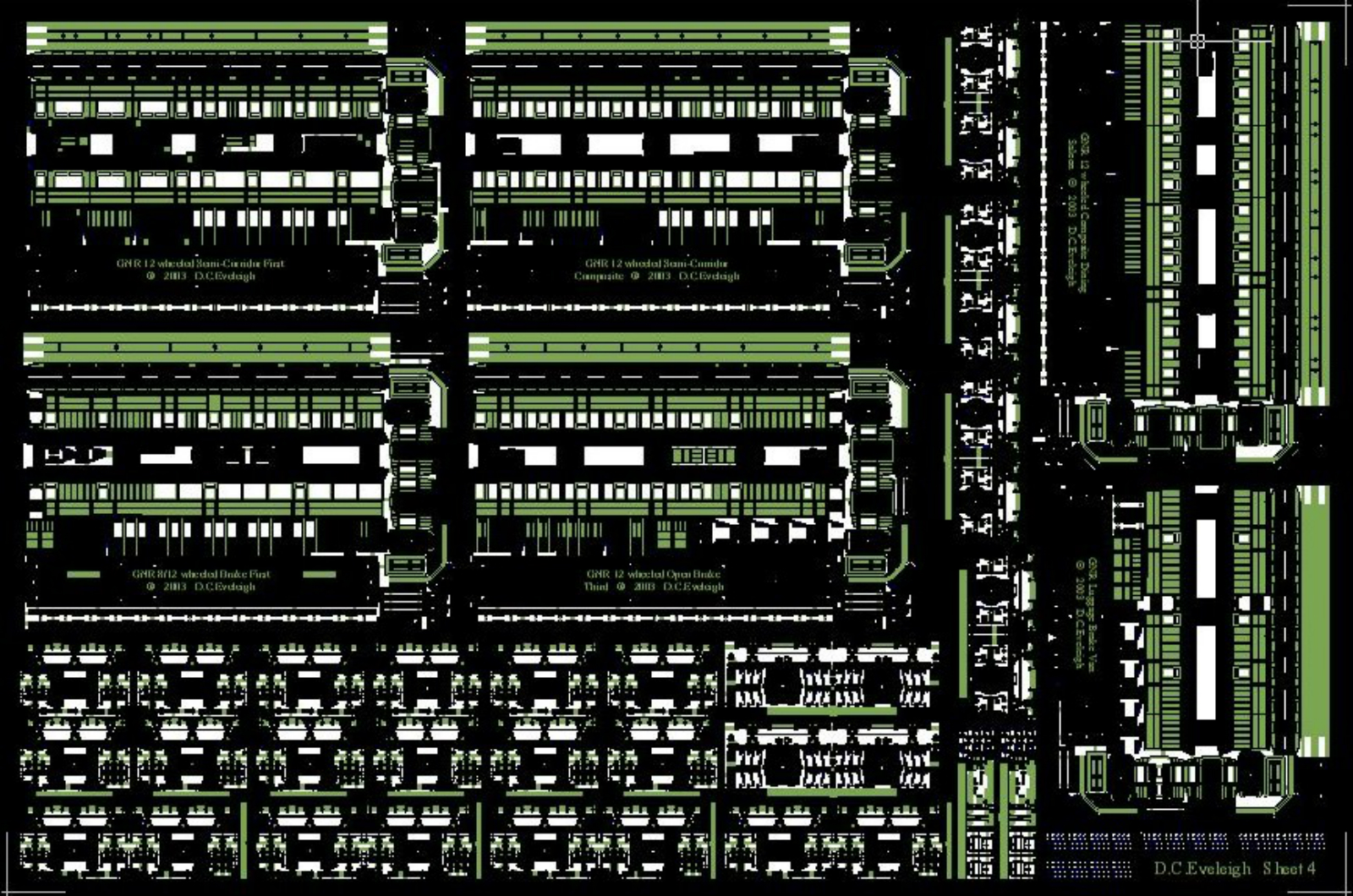 Sheet 5  Great Eastern / LNER locomotives.  J15 0-6-0 + tender, J68 0-6-0T, J69 0-6-0T, Wisbech tram engine (valances for four or six wheeled types), 10t goods brake van, parts for Claud Hamilton 4-4-0 and B12 4-6-0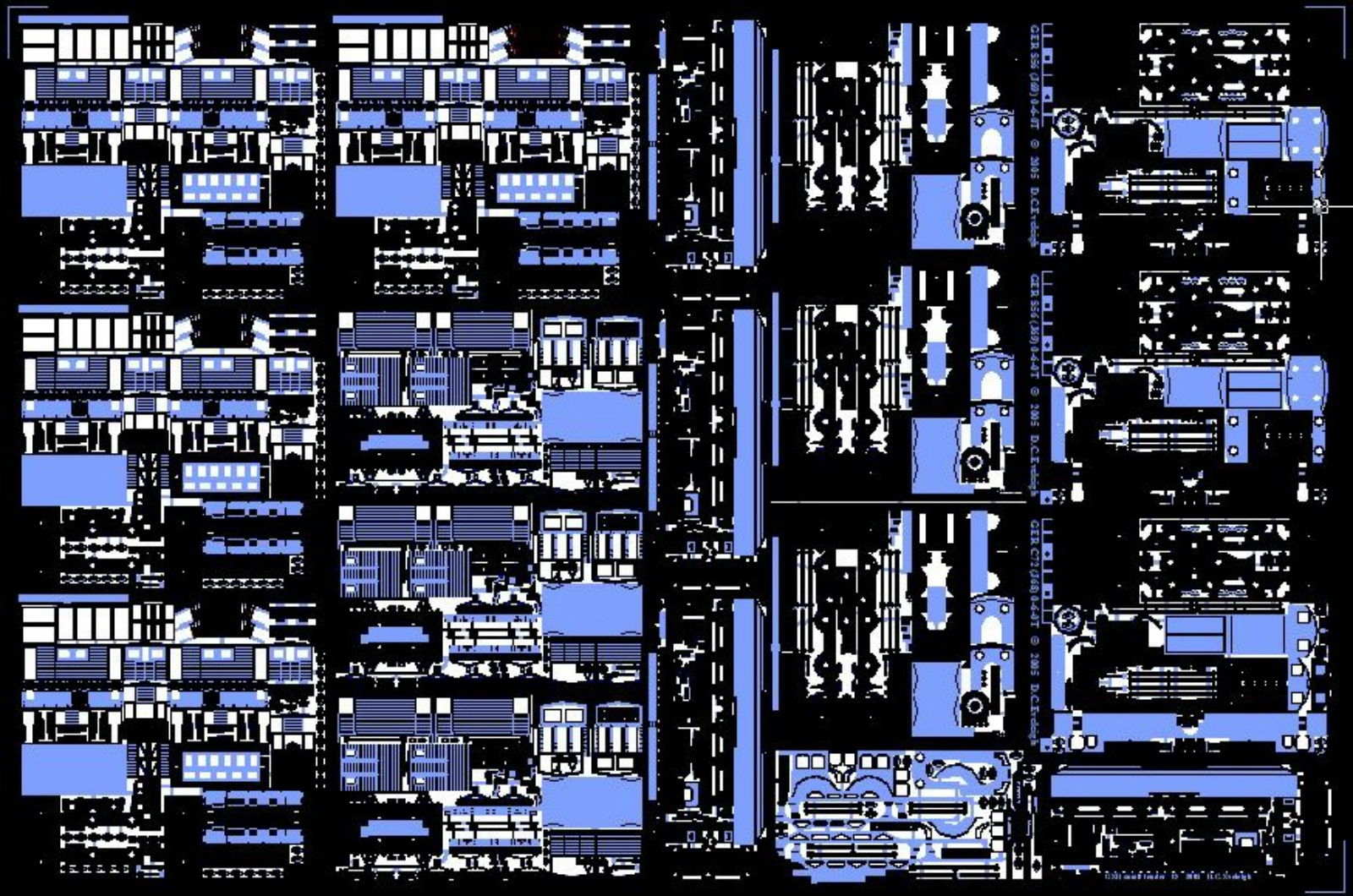 Sheet 6  Upgrade kits for LNWR, NSR and NLR coach kits by other manufacturers where the chassis (+ roofs) had not been provided, Viaduct arch + cobbled street press for embossing plasticard or cardboard, Beware of Trains notices, gradient posts,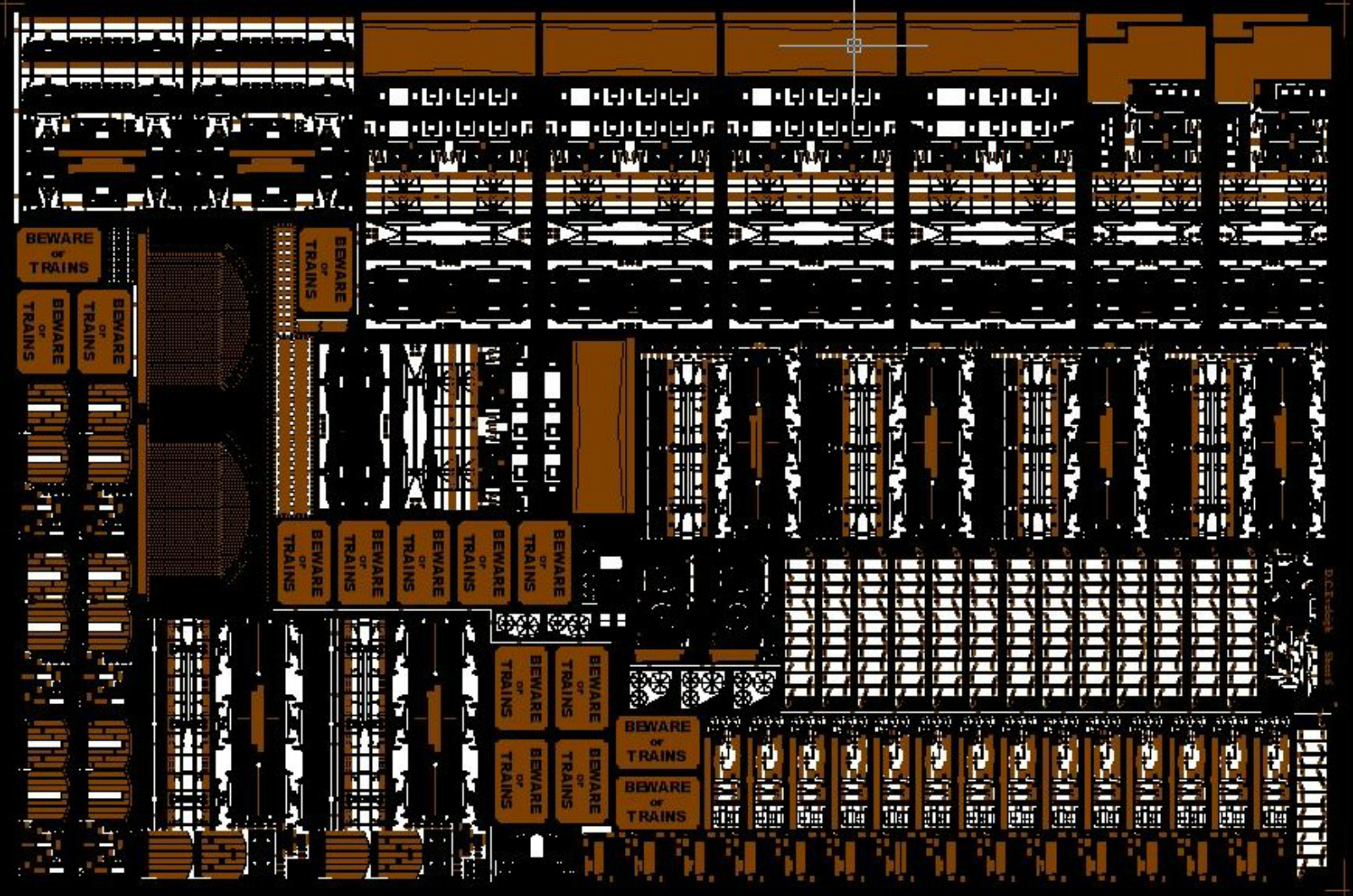 Sheet 7  Midland Rly four wheeled goods brake van designed for the 2 mm Scale Association.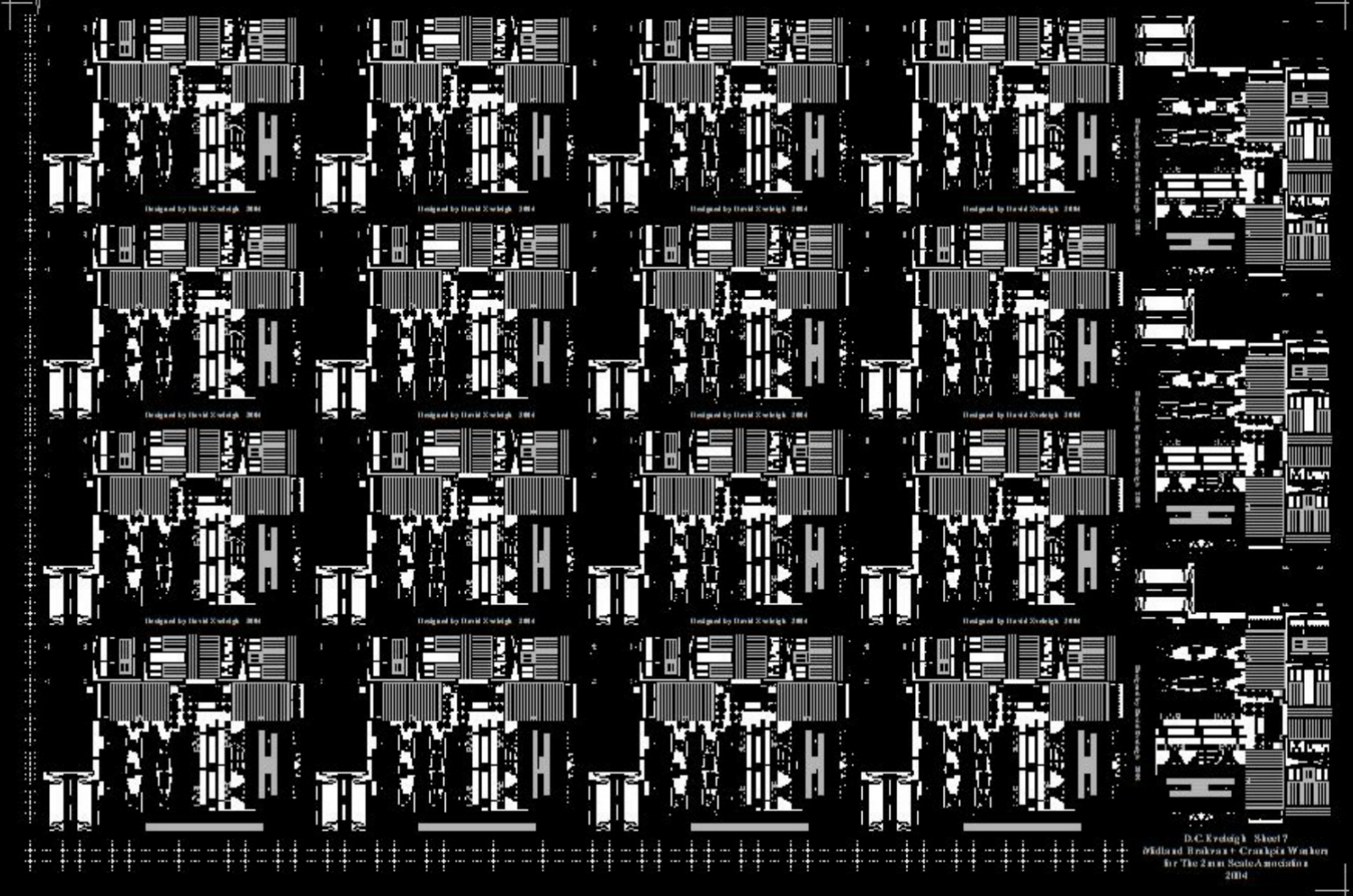 Sheet 8   Long Melford bridge girders (two bridges - one of three spans, one single span),  Scottish Fish Oil and Guano Company tank wagon.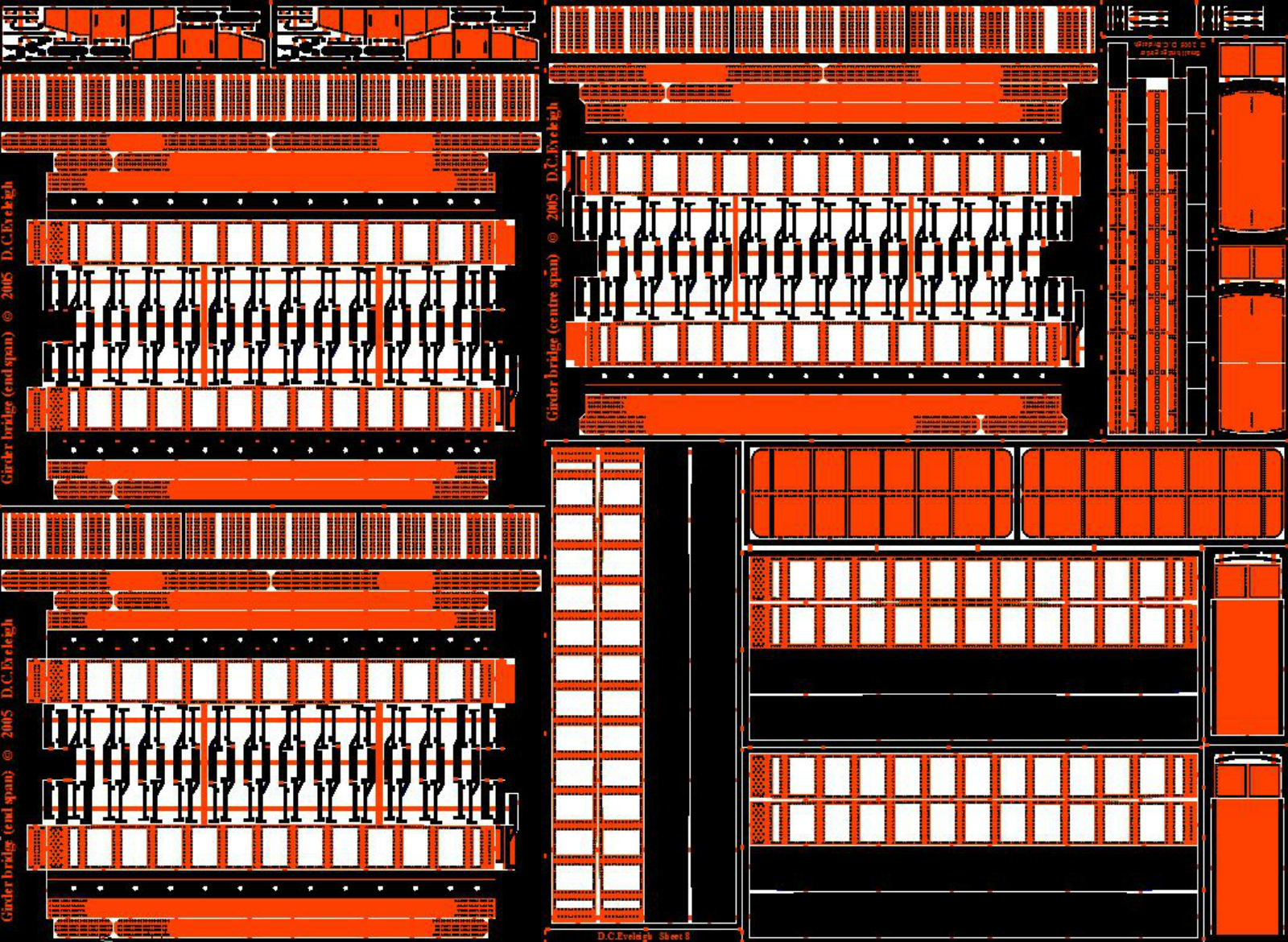 Sheet 9  Midland Rly coaches (43 ft, 40 ft bogie coaches complete with bogies, six wheeled coaches, horse box covered carriage truck, open carriage truck, parts for M&GN 0-6-0ST locomotive.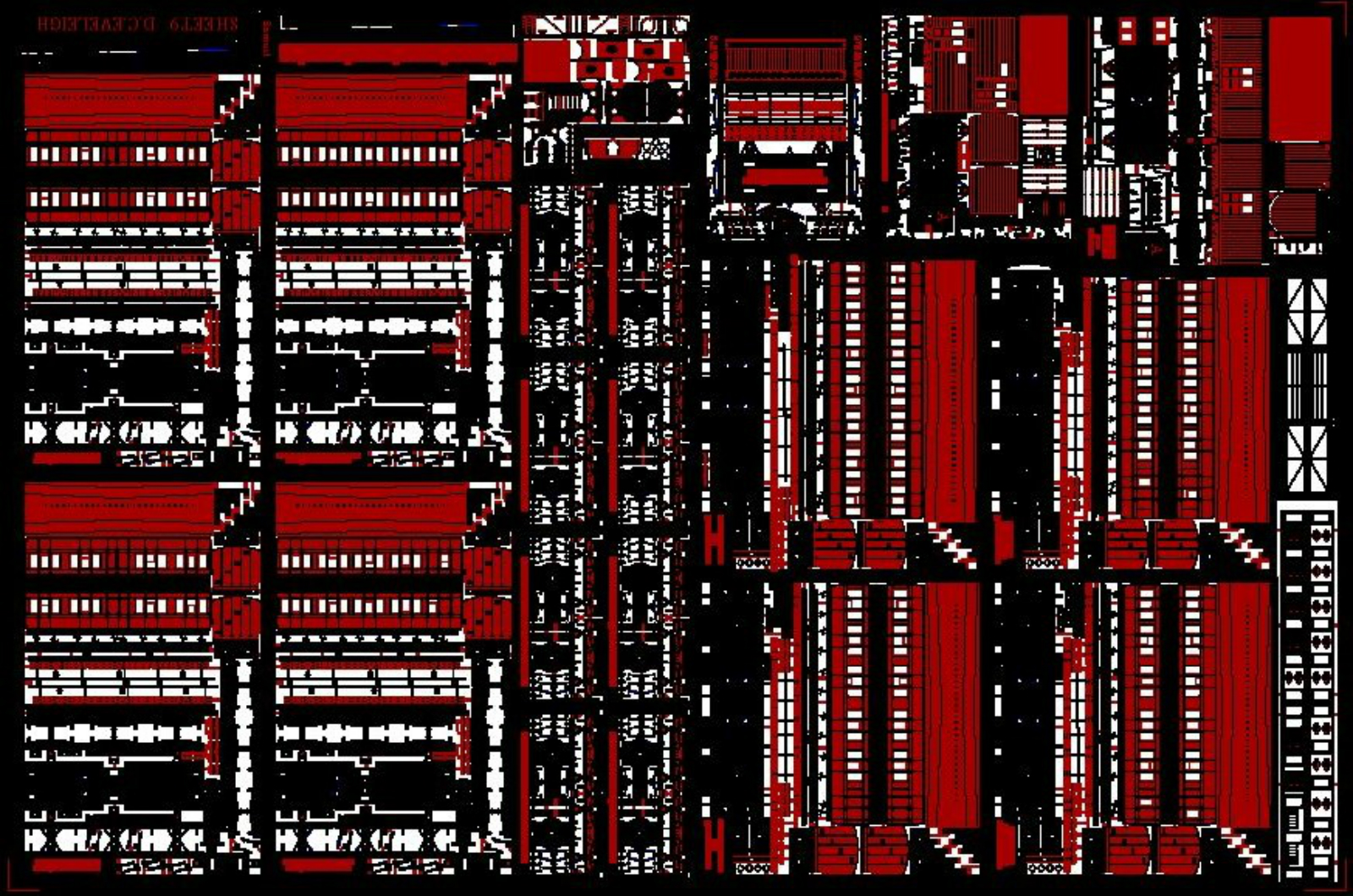 Sheet 10 Replacement chassis for Dapol GWR small Prairie 45XX class 2-6-2T, GWR outside framed toad brake van (1886), bespoke parts for Copenhagen Fields layout, cattle dock for Mid Suffolk Light Rly.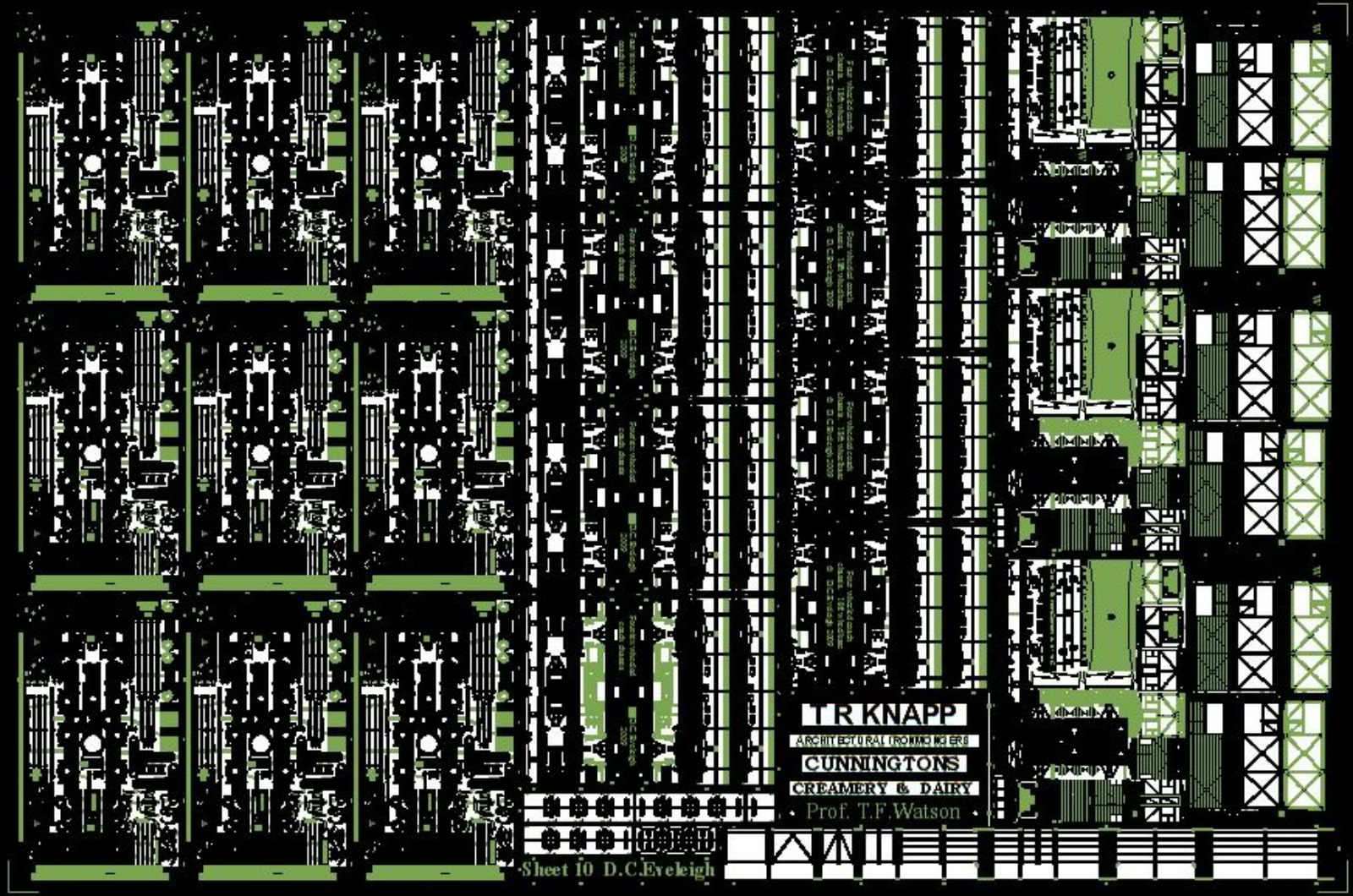 Sheet 11  Midland Rly six wheeled goods brake van designed for the 2 mm Scale Association.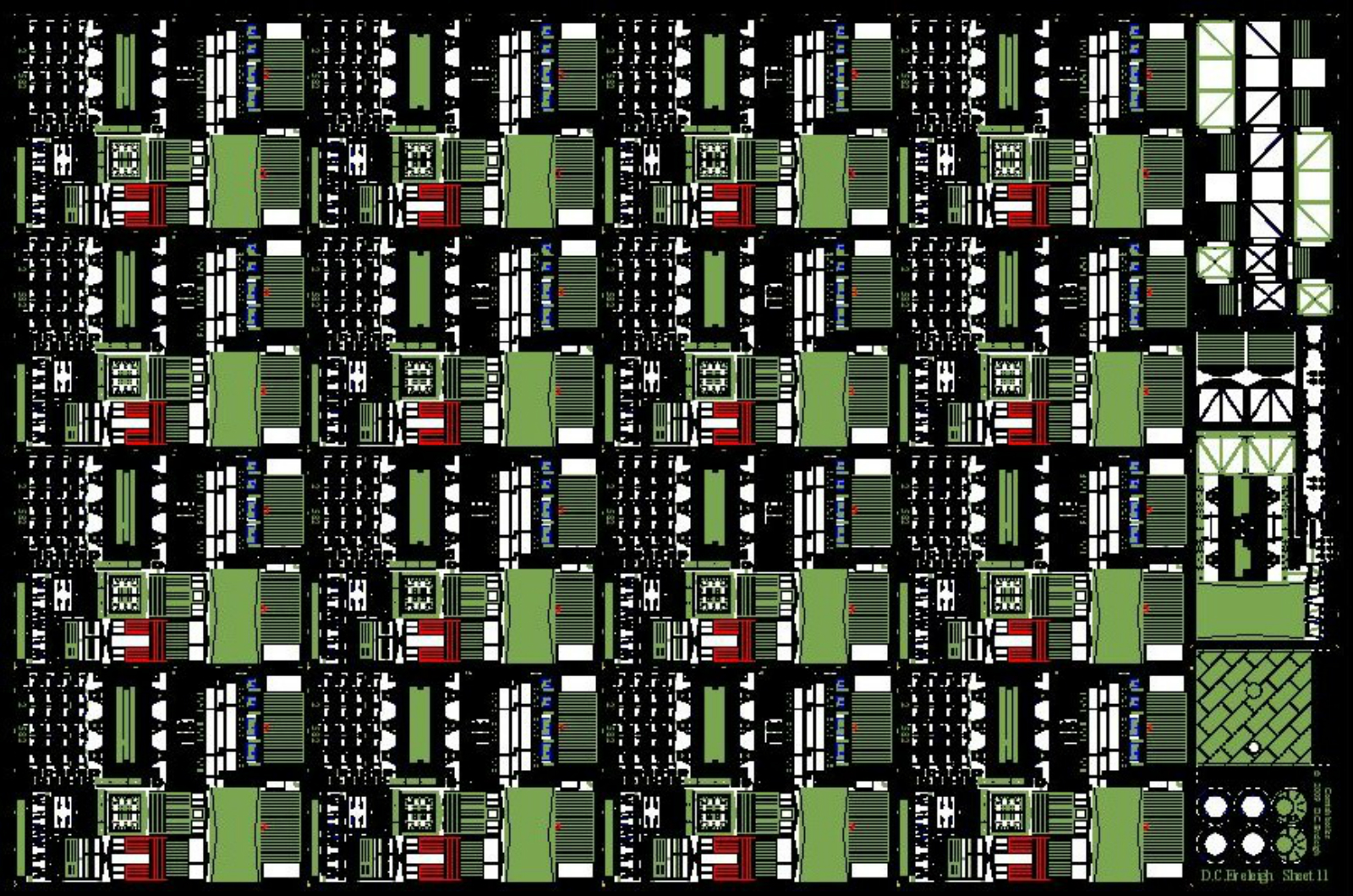 Sheet 12   Design to commission:  LNWR  Two brake vans, box van, beer van, horse box, prize cattle van, combination van, explosives van, timber twin bolster chassis, wagon chassis, spare brake parts.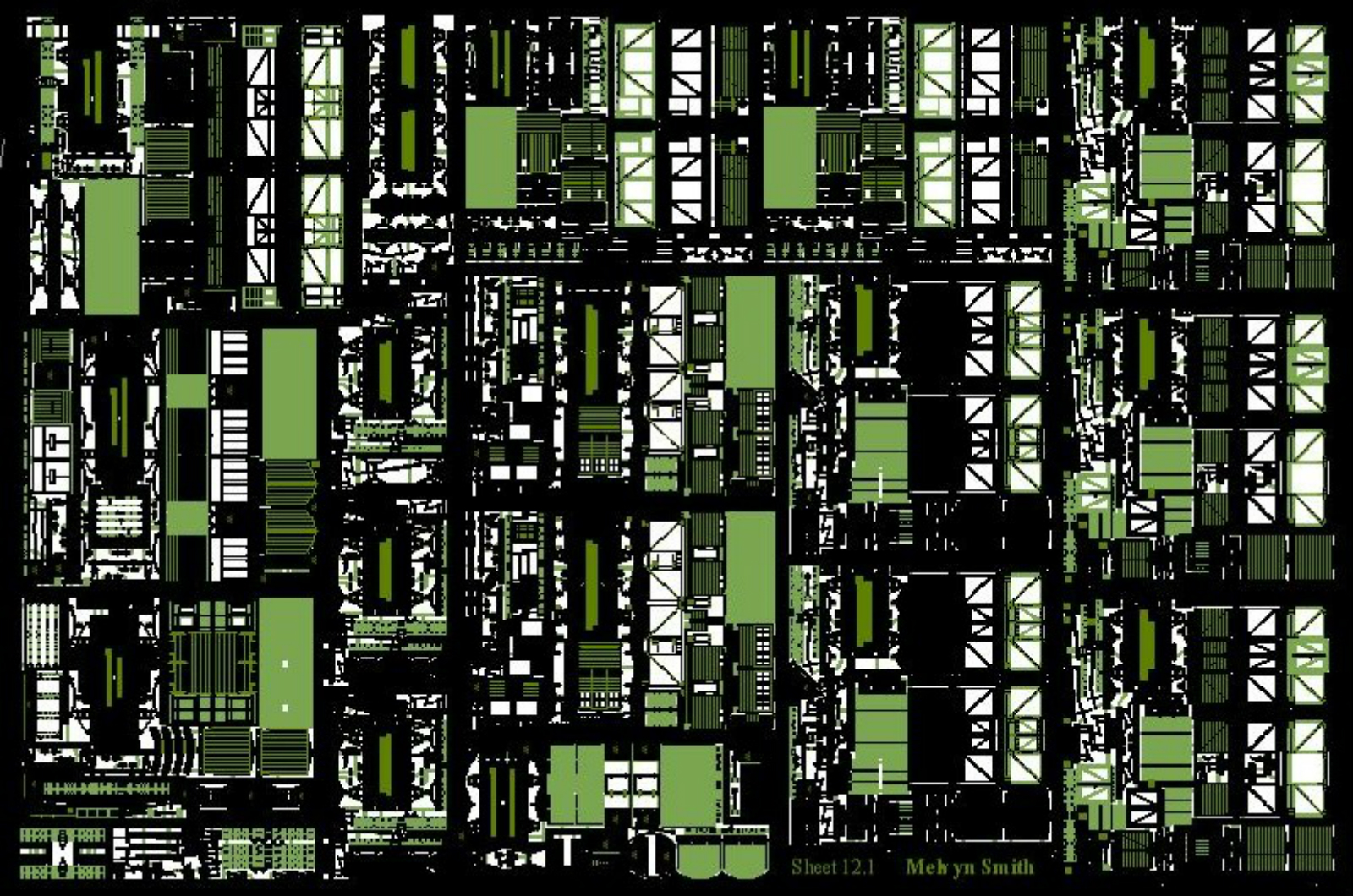 Great Northern Rly six wheeled coaches, J4 0-6-0 locomotive + tender, tender for GER Claud Hamilton 4-4-0 locomotive, small Sharp Stewart tender.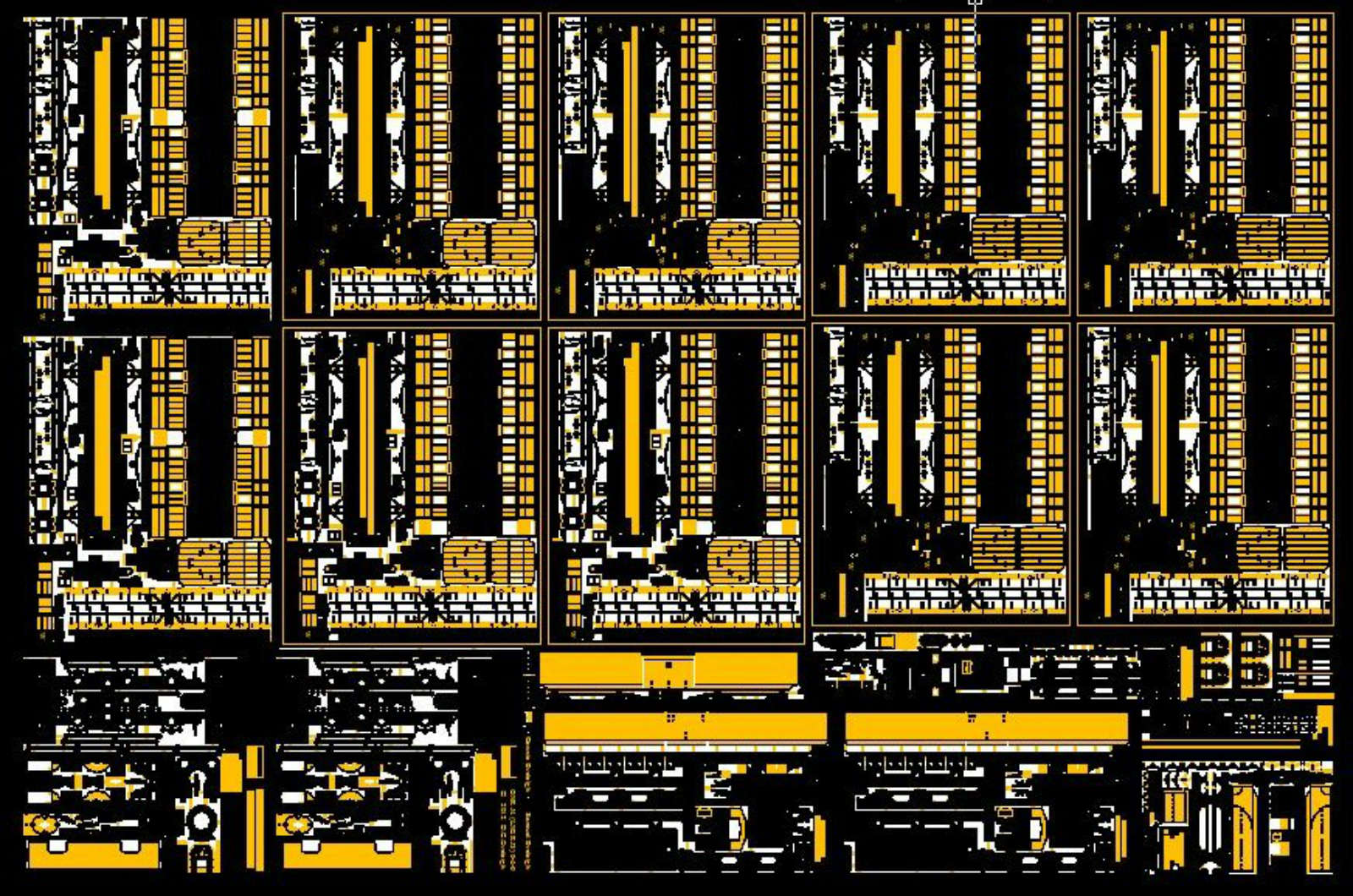 Sheet 14  Midland Rly locomotives  Johnson 6'6" 4-4-0, Johnson 0-6-0, Kirtley 156 class 2-4-0, Kirtley 700 class curly framed 0-6-0, all with tenders, spare tenders, modification kits for later varients of 4-4-0 and Kirtley 0-6-0, Small Prairie number plates for the locos which worked on the St.Ives branch (designed to commission)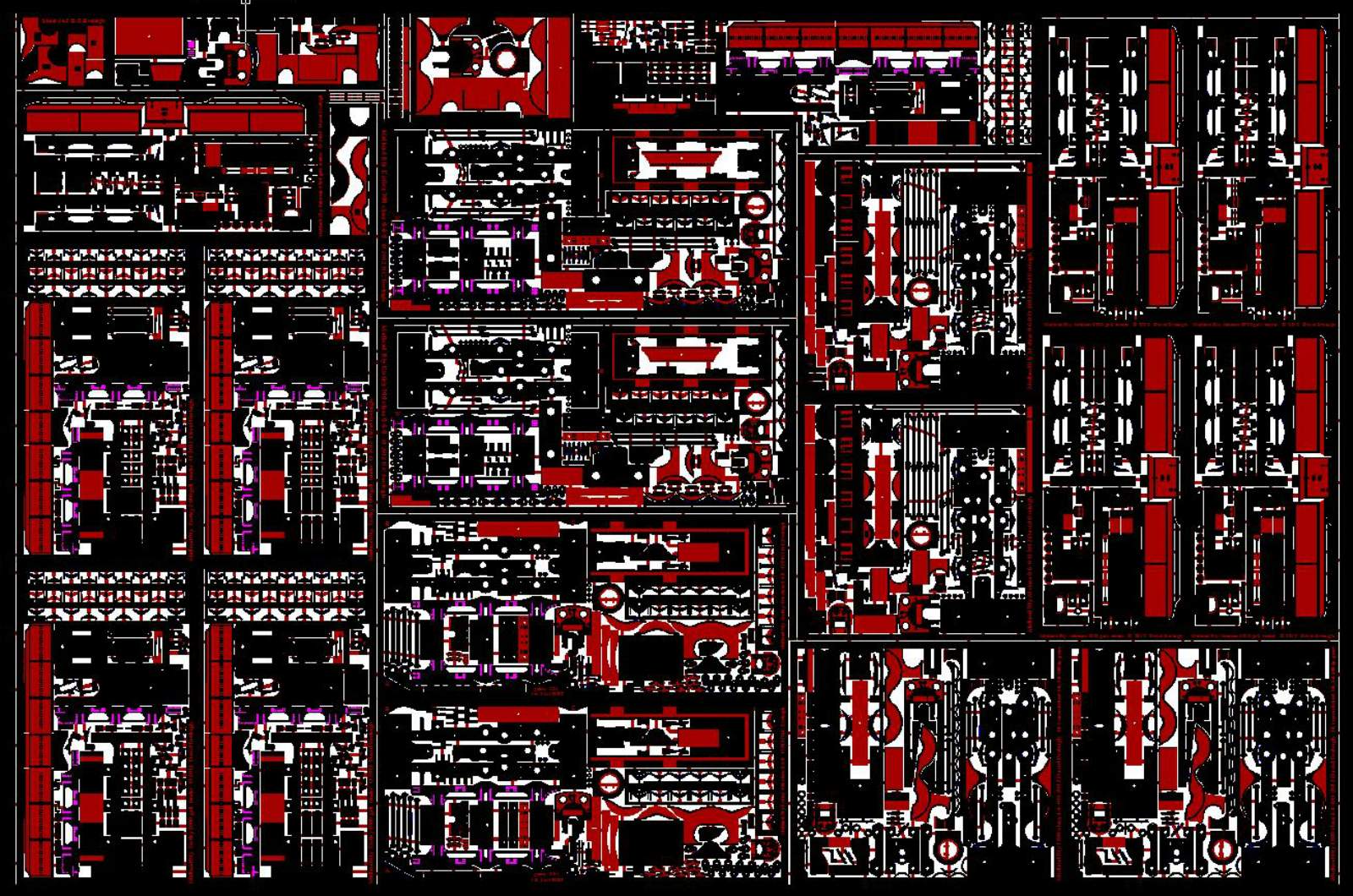 Sheet 15  Lancashire & Yorkshire tin-tab brake van,  Three old Great Eastern Rly locomotives + tenders, 3.14 mm/ft scale locomotive, two wagon chassis, scale rule, trundle wheel, [replacement solebar overlay for Midland six wheeled goods brake van kit]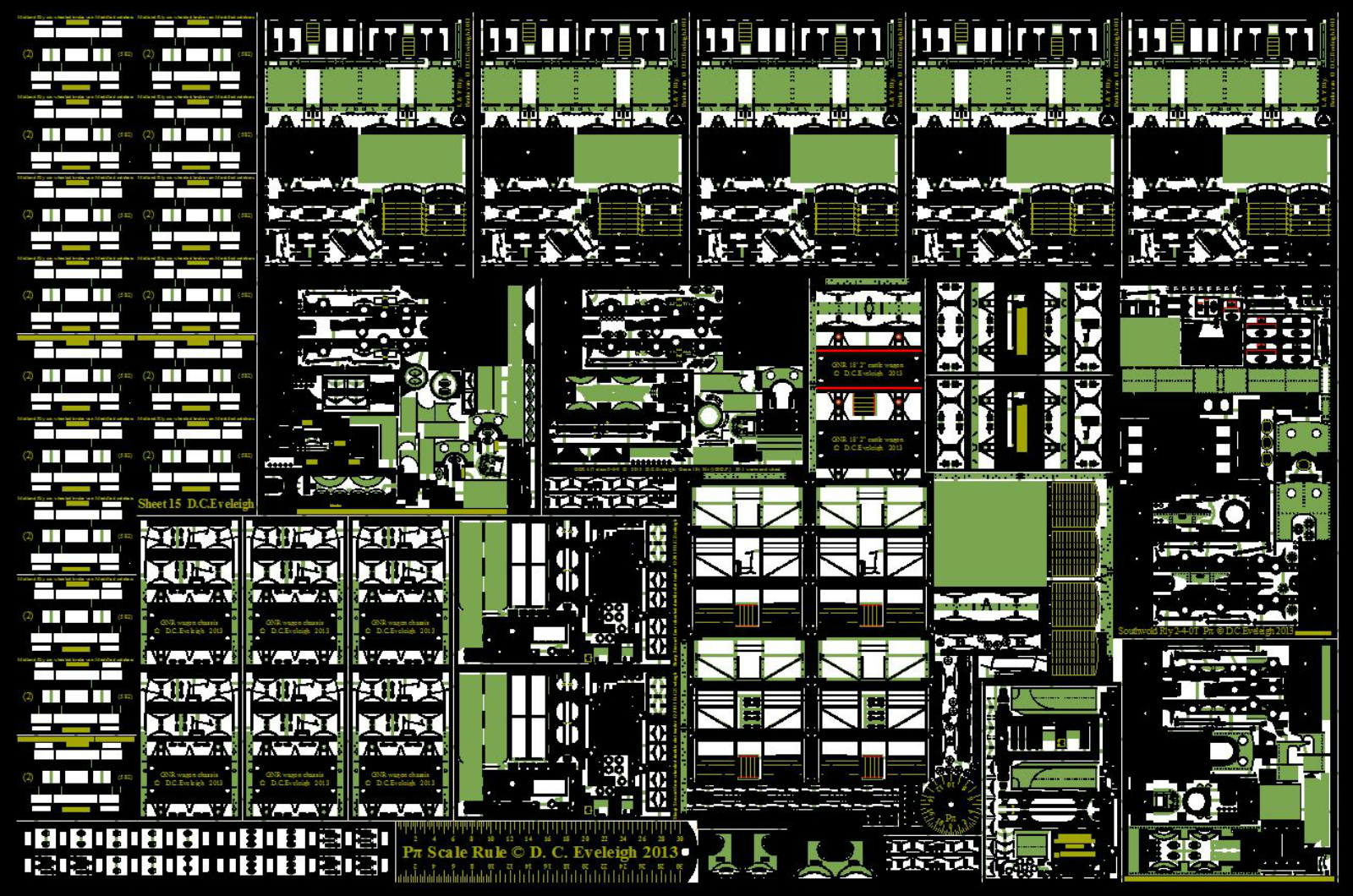 Sheet 16   3 ft gauge Southwold Rly in 3.14 mm/ft scale (Ppi)  three locomotives, two coaches, four Cleminson wagon chassis, four rigid wagon chassis, scale rule, trundle wheel, Flemish bond brick press, scenic parts, 2mm scale LT&SR cattle wagon.