What would you think of having a backscene for your model which enhances the work you have done?  I was recently honoured to have the famous model railway author, Iain Rice, judge specifically the backscene of my friend and fellow 2mm modeller, Mark Fielder's model railway (which I had painted for him) as the 'best model in show' at the prestigious Railex model railway exhibition.   This is featured below.
To give some idea of price:  the basic cost of a backscene would start from around £100 per linear foot - ie. if you wanted a backscene for a layout 6 feet long it would cost around £600.   That is independent of the scale of the model and also fairly independent of the height of the backscene, though a painting to cover the walls of the railway room would cost somewhat more!     Obviously the complexity of the painting would influence cost with complex townscapes being somewhat more expensive because of the time involved.   To that would be added a charge for visiting the layout to see its site in context, do sketches, take measurements and discuss your requirements and also for delivery and installation.
The painting would be done in acrylics on either canvas (which can be rolled up and makes long continuous backscenes possible) or board (plywood or thin mdf).   Complex structures would add to the cost.   The painting would be done in my own studio and depending on workload would take several weeks to complete.
On my own layouts I tend to create the backscene early on, before the scenery is completed, and that helps me to achieve a harmony across the layout.   On work I have done for other people, however, this is not always the case, and then I adjust my style to fit what is already there.   People have often commented that in photographs and even viewing for real, it is difficult to see where the 3D modelling ends and the 2D begins.   A lot of tricks are used to achieve this effect.
Contact me to discuss your requirements.   I would always like to meet, and chat extensively with pencil in hand and piles of books and photographs for reference!
Some of my paintings and backscenes to give an idea of what is achievable and what might look good behind a layout. Which is your favourite?
An Clar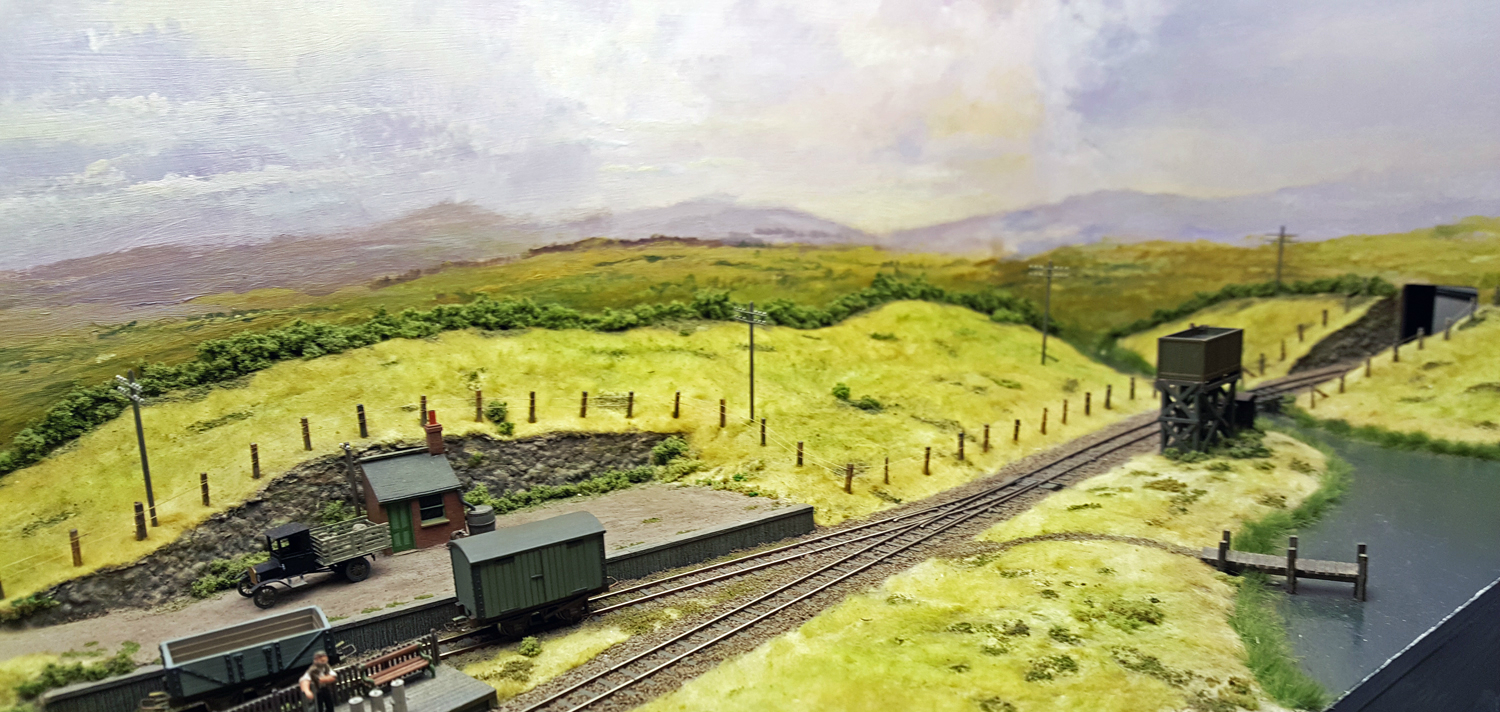 Photo by Phil Copleston.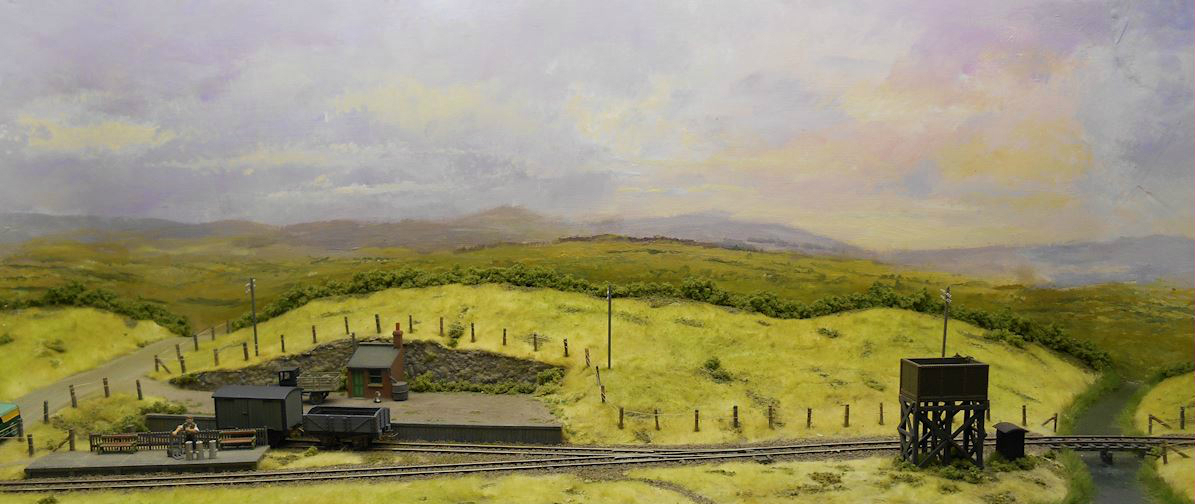 Photograph by Mark Fielder
  
Here is what Mark had to say:-
"My good friend, fellow 2mm modeller and talented artist David Eveleigh kindly offered to paint the scene, so armed with a few colour albums of Irish narrow gauge railways, he set to work with artists acyrlics to come up with a magnificent vista that really captures the rugged west of Ireland in which the layout is set. ...  I'm really pleased that Iain Rice recognised David's immense contribution to the success of my small layout."
.. and here is what Phil Copleston, another talented modeller said:
"David's backscene painting is the work of a true artist who understands that the backscene is there to support and emphasise the foreground model. His use of purples, oranges and pinks in the sky are particularly noteworthy and bold, while the reducing hues used for the further hills and clouds lend to a convincing feeling of 'distance' and weather - you get the distinct feeling that within 10 minutes this sunny patch will pass and it it will be pouring down with rain. How very Irish!"
Framsden
Here are three views taken by my good friend and fellow 2 mm modeller, Henk Oversloot.   These images were obtained at the Oxford Supermeet of the 2mm Scale Assocation before the layout was complete - hence the lack of potato harvesters seen in later views and the J15 locomotive (from one of my etched kits) not yet complete - on the occasion when Framsden won the Grand Jubilee Layout Competition.